Wood Cleaning To Maintain Your Tuscaloosa Perimeter
If your home could use a cleaning service from an industry pro, it's time to contact E5M Hydro Wash to schedule a wood cleaning. Mold, algae, mildew, and exposure to rain and other elements can make your fences, decks, and other wood-based items in the Tuscaloosa area look worn and old, but chances are, it just needs a thorough cleaning. Our pressure washing specialists provide the best results every time, and not just in wood cleaning! We also offer high-quality sidewalk cleaning and rust removal, too. All of our services in Tuscaloosa come with free estimates and consultations, so don't hesitate to contact us today about your next project.
Wood Washing Can Extend The Lifespace Of Your Wood
If you've never gotten any of the woodens structures on your property cleaning before, you might be wondering what the service entails. You can't just scrub your fence or deck with a brush, soap, and water to get a thorough clean. You'll need to use pressure washing equipment if you want to get deep into the surface and remove the ingrained gunk and grime.
At E5M Hydro Wash, we use a combination of high-pressure washing and low-pressure washing, also known as soft washing, in our wood cleaning services. This type of cleaning combines low water pressure with specialized detergents and solvents, which allows us to get into surfaces and draw out the impurities without worrying about causing any damage.
Interested in learning more about our wood cleaning or any of our other services, like house washing? Make sure to contact us when you want the best pressure washing for Tuscaloosa.
Why Clean Your Fence or Patio?
Over time, your residential fence or patio might lose its visual appeal after developing all kinds of organic growths and accumulations, such as dirt, mud, grass trimmings, fungus, and more. Not only are these growths unsightly, but they can also significantly reduce the structural integrity of your wooden sturcture. No matter what kind of material is used, you need a good wood cleaning every few months.
At E5M Hydro Wash, we use high-quality, commercial-strength pressure washers that can get deep into the surface of your wooden structures to draw out all the dirt and grime to return your wood to its former glory. This is especially useful for wooden fences and decks, which can get particularly dirty during four hot Tuscaloosa summers. You want to make sure your wood sturcture is in its best condition, visually and structurally, so it can serve you year-round.
For softer wood structures, we use a different technique known as soft washing. If water is blasted at your wood structure at too high a pressure, it could easily damage the surface and leave behind ugly marks or dents in the paint. Soft washing uses a combination of lower water pressure and special detergents and soaps to clean your wood without harming the delicate surface underneath. Don't worry—every product we use is completely eco-friendly and safe for use around you and your family.
Recent Wood Cleaning Projects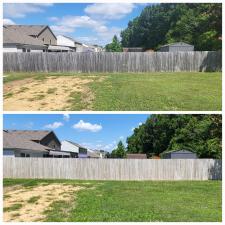 Wood Cleaning in Tuscaloosa, AL - 94A
This homeowner hired us to clean a wooden privacy fence that surrounded the back yard of a rental house that he owned. The home had previously had a fire in the backyard that charred some of the fence, but overall the fence was just dirty and […]
Latest Tips & Articles
Why You Should Pressure Wash Regularly

Many people don't fully realize the importance of pressure washing their homes. They assume it's only for aesthetic purposes. But we're here to tell you that's not true! Of course, your home will look much nicer, but there are many more positives to pressure washing. Put […]

Why You Should Put Our Professional Skills To The Test

You're probably wondering whether or not you need to hire a professional to take care of your pressure washing needs. At E5M Hydro Wash, we greatly recommend hiring a professional instead of attempting to do it by yourself! We understand it can seem tempting to pressure wash […]
GET A FREE ESTIMATE TODAY WITH PROFESSIONAL TUSCALOOSA PRESSURE WASHING COMPANY!