Thorough And Effective Dock & Boat House Cleaning In Tuscaloosa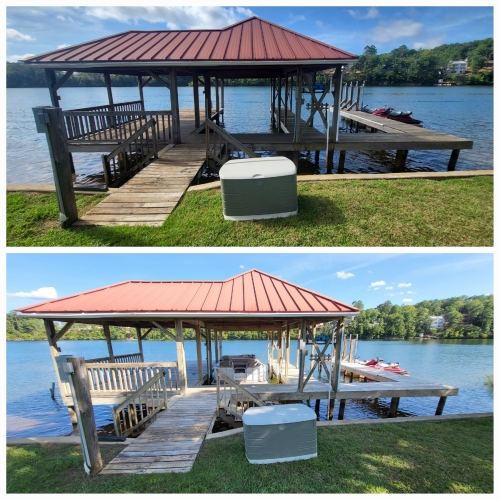 Tuscaloosa Dock & Boat House Cleaning should only be handled by one local company - E5M Hydro Wash. We're the industry experts to trust for important outdoor cleaning services like these. Exterior surface cleaning should be done by trained, experienced, and well-equipped industry pros.
Using a boat is a fun recreational activity, but it does require ongoing maintenance for both the craft and the docking area. Keep things clean to promote safety so you can focus on having fun. The last thing you want is for a day out at sea to be ruined because of an injury from a dirty, slippery, and neglected boat dock.
Dock & Boat House Cleaning is an ongoing part of sea vessel ownership, but luckily it's a job you can delegate to someone else. Our team is ready to spring into action so you can enjoy your boat, and we can take care of the pressure washing.
Dock Washing
You know you have to clean your boat, so don't forget about the dock! As a top choice for Tuscaloosa pressure washing, you can rest assured that we have the experience needed to expertly clean your boat dock.
Dock & Boat House Cleaning is crucial because for every recreational activity, there's work around it to make it go off without a hitch, and that's what we're here to take care of for you. Routine dock washing is essential for several reasons:
Keeping up appearances - Boat houses and docks are places that are expected to look well-cared for.
Promote safety - Remove slippery and slimy accumulation that can cause someone to slip and fall.
Maintenance to help avoid repairs - It's easier to keep your dock and boat house clean and free from contaminants that cause expensive damage, like mold and rot.
Boat House Washing
In addition to routine washing, your boat house needs frequent staining. Of course, the first step in staining is preparing the surface, which means cleaning it!
Let E5M Hydro Wash provide you with the exterior cleaning you need to prepare your outdoor surfaces for staining or painting. Call us when you need pressure washing for Dock & Boat House Cleaning in Tuscaloosa. Your satisfaction is guaranteed.
Latest Tips & Articles
Why You Should Pressure Wash Regularly

Many people don't fully realize the importance of pressure washing their homes. They assume it's only for aesthetic purposes. But we're here to tell you that's not true! Of course, your home will look much nicer, but there are many more positives to pressure washing. Put […]

Why You Should Put Our Professional Skills To The Test

You're probably wondering whether or not you need to hire a professional to take care of your pressure washing needs. At E5M Hydro Wash, we greatly recommend hiring a professional instead of attempting to do it by yourself! We understand it can seem tempting to pressure wash […]
GET A FREE ESTIMATE TODAY WITH PROFESSIONAL TUSCALOOSA PRESSURE WASHING COMPANY!